Episode 90
February 2, 2016, Dick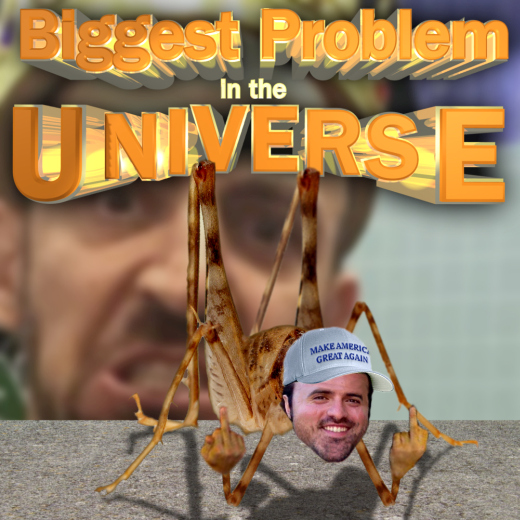 | | |
| --- | --- |
| Domestic Violence | 2317 |
| Unappreciated Artists | 1605 |
| Crickets | -381 |
If you haven't purchased the most recent
bonus episode for $1.33
, none of this episode will make sense. Asterios Kokkinos is back! And this time he has a problem that will appeal to anyone who's ever thought of something and then expected to make a million dollars from it. Of course I'm talking about Unappreciated Artists. Imagine a world where the guys who created Superman and Wolverine and Ghost Rider are all homeless and giving hand jobs for sandwich meat in Battery Park. If that got you excited, congratulations because that's the world you're living in. Personally, I think a five year old could have created the concept of Superman: a guy in a cape who can't be killed. Big fucking deal. The success of the brand is due to xenophobia, nostalgia, and years of marketing, but what the fuck do I know. Vote up people who tell you about their dreams. Special thanks to Casper for sponsoring this episode. Go to
https://casper.com/biggest
and use the promo code "biggest" to get $50 off, or don't to pay $50 more. True to form, I bring in a problem that happened to me on the way to record the podcast: Domestic Violence. If you don't think domestic violence is a problem, you're probably not one of the one-third of the population of Earth who is beating the hell out of the other one third. Domestic violence is the reason we have neck ties. It's comforting to imagine we're civilized, but the stats say otherwise. I've attached several of those stats to this post. If you yourself are a victim of domestic violence, please do whatever you're statistically most likely to do. That's all we can ask for. Maddox rounds out the episode with a much more personal problem, something that has plagued both man and comedian and the British since the beginning of time: crickets. Crickets are loud, and annoying, and full of protein. But that can be said for all the hosts of this show too. Vote up crickets and watch Maddox and Asterios hunt them down on
Periscope!
Update:
-Maddox here: I caught the bastard last night! More to come...
/Maddox We also discuss some super sweet 3D renderings of Maddox and myself brought to you by Jonathan Milling, and hear several opinions on Maddox's brand of vigilante justice. Maddox
Dick Masterson
Check out Asterios' The Enemies of Twenty-Something Mega Man Part II:
www.devastatorpress.com/megaman2
And follow him on Twitter
@asterios
. Sources: National Coalition Against Domestic Violence -
U.S. Domestic Violence Stats.
HuffPo -
More Sterile Numbers.
Wikipedia -
Super Ray, no one got a million dollars for thinking up him!
Thumbnail Sources:
Cap
,
cricket
.
---